Marketing – The Rules Have Changed Campaign
UltraLox - The Rules Have Changed Campaign
Extensive Marketing research was done to find touch points of the industry. "We'd already had the pulse of the industry doing work for Harmony Railing and Williams Architectural Products," said Mike McAllister, owner and creative director for Inventiv Designs. "This time we had to exclusively target LBM (lumber building materials) dealers." Through their research and understanding, the needs of the market, McAllister and his team launched a multi-faceted campaign centered around the powerful, unavoidable message: The Rules Have Changed.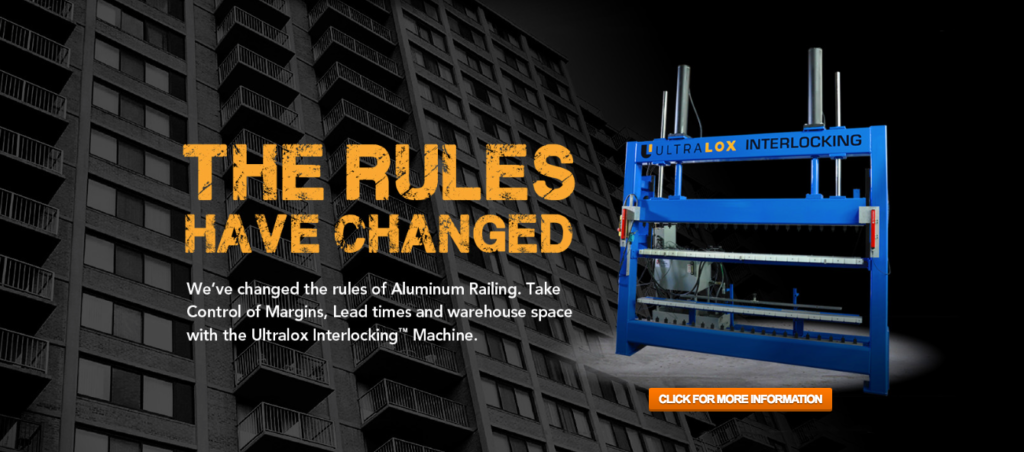 The campaign to bring UltraLox to the front of minds of building materials companies was quite a success for Inventiv Designs and UltraLox. UltraLox's product is a machine to assemble aluminum railings for decks, patios, and balconies. The machine expedites the process of assembling railing panels, forming a completion time of 90 seconds a panel or 250 feet per hour. It was Inventiv Designs' job to get companies to see that UltraLox was about to change the railing industry.
UltraLox had changed the rules of aluminum railing, the industry just didn't know it yet. That's why UltraLox and Inventiv decided that instead of just joining the game, they we're going to change it. "If we believe this product can change things, if we're going to be an industry disruptor, let's act like it," said McAllister. The UltraLox web site was rebranded and they developed a tradeshow booth to be launched at the upcoming Deck Expo. Stationary print materials including flyers, posters and banners were redesigned. All with the powerful message.
Inventiv Designs and UltraLox decided to make a video demonstrating the product at the expo. "It was an easy addition to make," said McAllister. "We brought Ed Peterson, Vice President of Sales and Marketing at UltraLox in to our in-house studio and put him in front of a camera to talk about how their machine worked. With our green screen studio and team of expert editors, we were able to make it look like Peterson was demonstrating the product in-warehouse."
The campaign made an impact. The video was a success and led to a series of videos with LBM dealers. The brand is recognized throughout the industry and everyone knows who changed the rules.